Guest post: Cory and Katie from Be a Problem Solver
Today on the blog, we have teamed up with Cory and Kate from Be a Problem Solver. Dr. Cory is a Child and Family Psychotherapist with a PhD in Counseling and Counselor Education, and Kate is a pediatric speech language pathologist. They are passionate about helping children and families learn and navigate the social world. Today, they are sharing about how to keep our children safe within the digital world. We are excited for them to share their expertise with you!
---
Challenges in the digital age
In today's digital age, everyone is concerned how to keep tweens and teens safe – but as parents, we get it, the parental responsibility in making these decisions is enough to make you go crazy. The kind of crazy you feel when you're trying to just write that one final email at the kitchen counter and your children decide that that is an ideal time to start a heavy metal band and start a small fire in the living room.
Nonetheless, there are some things that you can keep in mind as a parent in the digital age and ways that you can set your tweens up for success. Digital safety and boundaries are definitely the most basic level of Media Mindfulness, but beyond that, there are some steps that we can take to ensure our children are decent humans who can lead joyful lives. Spoiler alert: the key to raising good, kind kids goes way beyond media monitoring.
1. Consider the age of introduction
It's no secret that there needs to be limits to screen time and introducing access to social media is no small task. The WHO (2019) recommends no more than an hour from 18 months-5 years old, and up to two hours a day through middle school. Does that sound feasible?
The simple answer for when to allow social media use: late middle school or high school. In fact, it is illegal for companies to allow tweens younger than 13 years old to have social media accounts. Even Bill Gates reported that he didn't let his own children get a phone until they were 14, and the argument continually exists that we should be assessing each individual child's maturity level to determine whether or not they are "ready" for such a responsibility.
However, in today's world, this rarely ever happens. Research shows that the average age that kids get their first smartphone is 10.3 years old…and that age is getting younger consistently (Fardouly, Magson, Johnco, Oar & Rapee, 2018). Children are exposed many years before this transition on various platforms since platforms like YouTube and TikTok are public and you don't need an account to view them – did you know that?
2. Discuss device options and your child's maturity level with another trusted adult
Before you introduce a device to your child, have a conversation with your partner or other trusted adult friend or family member about your child's maturity level. Ask yourself and your partner questions like, "What does our son/daughter typically do when things are tough? When people are rude to him/her? Does he/she have competent social skills already? Does he/she have an understanding of a "safe" amount of information to share online?" For a complete list of questions to consider, check out our guide, The Truth About Digital Safety.
3. Family Meeting
We recommend that families have a sit-down style family meeting to lay out the device options, rules, and agreements. Here are several points of discussion you may want to bring up during the family meeting:
Discuss care and responsibility for the device itself. At our house, our children actually have to earn "dollars" in the form of funny money to be able to "buy" anything they like. If your child is not responsible enough to earn the device, it may not be the right time to introduce one.
Agree on the time limit for total screen time as well when devices can be used. You may write it out in a contract if that works for your family, hang it on a whiteboard in your house, or review it consistently at dinner.
In the same way we talk to children about strangers in scary vans, we need to do so about the internet. We always tell our children the truth (in an age-appropriate way) about the implications of someone's actions. It used to be that we only had to think about our children being safe around the handful of people around where your house is located. Now when our children get on the internet, it's like they are going out in the neighborhood of 7 billion different people.
Agree that a parent or trusted adult will follow/friend the child and periodically check account posts and connections. Always do this with full transparency. We discourage secretly checking phones.
Other topics to explore during the meeting include friendships outside of technology, appropriate written "text" communication, mood and accountability.
4. Behind the Scenes
When first introducing technology, make sure password protections are on, settings are turned to private, and technology usage only takes place in supervised settings (i.e., think twice before letting your child use headphones all the time when they are on a screen that involves online interaction). We really like the comprehensive list of instructions for parent controls & privacy settings for many devices from Protect Young Eyes.
For older children who are able to freely download apps, it's important that you inform yourself about what the current platforms are, what they are for, and what rules or default settings are baked into the apps. Discord, for example, is a popular online chat forum for people interested in video games. They actually have an age policy that users should be 13+. However, as the parent, you have to look not just at age, but also at the developmental level of your child. Ask yourself, "Can they interact appropriately with this platform?"
When first starting out, check your child's accounts and posts. If your child has to "log in" to show you a post – THAT IS NOT THEIR MAIN ACCOUNT!
5. Be accountable
Boundaries are necessary in the introduction of screens and social media, but you have to be accountable too. For older children who are already using social media, the buy-in for boundaries from both parties is absolutely necessary. As the parent, you will agree not to exceed the screen time allotment, and your child will be entitled to enforce this on you. And guys, it is tough. We know this because we fight this battle every day, just trying to sneak in a few minutes of IG scrolling and an extra glance at a text message.
A key factor that we always recommend is having an accountability strategy between parent and child. For younger children, this may be as easy as keeping devices in a central location, requiring that a child must ask before using the device, and using a timer to set limits on how long the device will be in use.
The truth is, accountability levels out the playing field and lowers the hierarchy between parent and child. We aren't saying that there shouldn't be rules, but being heard and truly seen is of utmost importance in establishing boundaries with tweens/teens and parents.
6. Build and maintain connection
Connection between adult and child is paramount to building trust around technology and social media use. Our research and practice has shown us that the absolute key to finding balance between monitoring a child's social media use and building trust is connection. This is more than just "Hey, how was your day at school?" It's about deeper connection. Does your child love Minecraft? Play it with him/her, show genuine interest. Got a soccer nerd on your hands? Make it a priority to chat while you kick the ball around the backyard every evening. As children age, it may become harder to monitor the exact time that they spend on social media and technology, and restrictive measures may lead to contempt and resentment (Fardouly, et al., 2018).
In fact, we have found in our work that once kids enter the teen years, there is very little control over how parents can monitor phone use, privacy settings, or messages sent. You won't be able to check on them as much as you may want to, and in fact, it's a good idea to be a silent observer, if possible. At some point, you will have to make that transition from hovering, to letting it go and trusting them. And how do you learn to trust them, while they are also trusting you for their privacy? Connection.
Online friendships do not always translate into real-life ones, and social media isn't a substitution for real friendship. We often hear our clients report that they have "tons of friends" in their online gaming community, but we come to find out that they haven't ever met these people face-to-face and when put into a room of peers, they have trouble interacting in groups and contributing with confident solutions to the problems presented. Helping your child in social situations that go beyond gaming chat rooms is so extremely valuable for their life-long ability to interact with others.
BONUS: Give yourself parenting grace. Being a pioneer parent will be full of good days and bad days. Start your days strong, end your day strong. If you are using empathy to connect to your tween or teen, you are winning!
Dr. Cory & Kate Clark
---
Thank you so much to the awesome team at Be a Problem Solver! We are so thankful for your insights in helping us keep our children safe amidst ever-changing technology.
Lori, Katie, and Mallory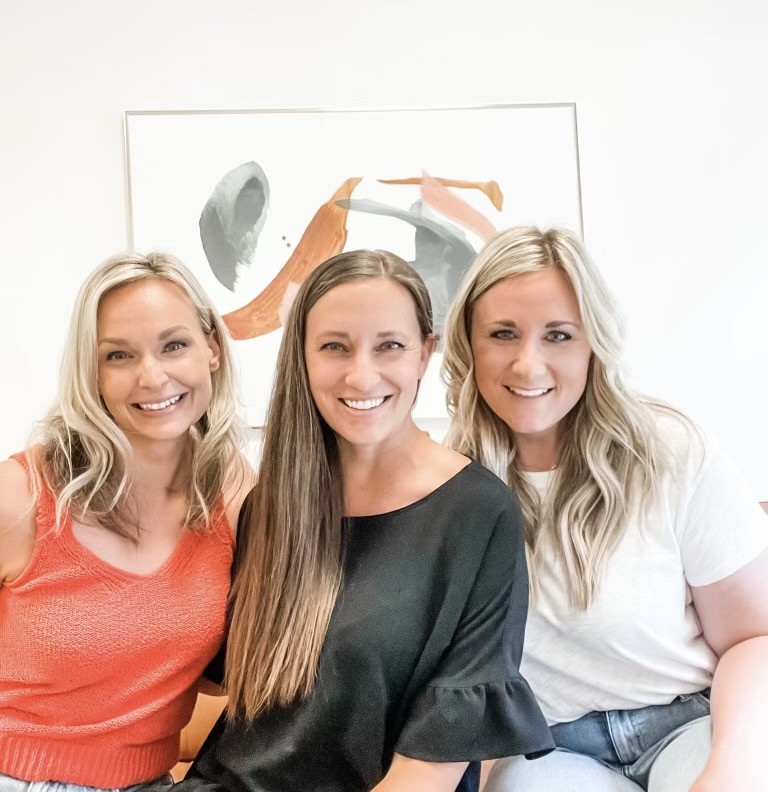 Resources:
Fardouly, J., Magson, N. R., Johnco, C. J., Oar, E. L., & Rapee, R. M. (2018). Parental Control of the Time Preadolescents Spend on Social Media: Links with Preadolescents' Social Media Appearance Comparisons and Mental Health. Journal of Youth & Adolescence, 47(7), 1456–1468. https://doi-org.tcsedsystem.idm.oclc.org/10.1007/s10964-018-0870-1
Guidelines on physical activity, sedentary behaviour and sleep for children under 5 years of age. Geneva: World Health Organization; 2019. License: CC BY-NC-SA 3.0 IGO
Disclaimer: The contents of this site are opinions of The Childhood Collective PLLC partners unless otherwise noted. The information on this site is not intended to diagnose, treat, or prevent any type of medical condition and is not intended as personalized medical/psychological advice. Any decision you make regarding you and your family's health and medical treatments should be made with a qualified healthcare provider.