A few weeks ago, we shared some of our favorite tools and strategies for getting started. Today, I'm going to be talking about a few more tricks you can use to help your child (or yourself, no judgement here!) get started on a task. 
1. Externalize Time 
Many children (especially those with ADHD) have difficulty conceptualizing time and understanding how long a task will actually take to complete. They may also have difficulty with the passage of time, so that an hour of TV feels like five minutes to them! 
In real life: Use tools that can be seen, touched, and heard to help your child sense the passage of time. Time timer makes an awesome disappearing clock (and you can use code: TCC to get 5% off!), but you can even use the countdown function on your phone! Calendars, schedules, and alarm clock reminders are all functional tools that even the most successful adults rely on. When you help your child use these reminders, you aren't "enabling" them. You are empowering them! In our online course, Creating Calm, we have an entire module dedicated to tools you can use to externalize concepts for your child. 
2. I do, we do, you do 
When you want your child to get started on a task that is challenging, think about what skills they have… and what skills they still need to learn. One great way to support new skills is to show your child how to do something (I do), then do it together (we do), then have your child do it independently (you do). 
In real life: I see a LOT of kids who struggle with longer assignments, like math pages with 20 problems, or writing tasks with several parts. Next time your child is overwhelmed, you can try this strategy: Do the first math problem for them, then have them help you with the next one, and then have them "try" on their own. For more homework help, check out our online course, Creating Calm. We have an entire module dedicated to homework success.
3. Incorporate Interests 
Let's be honest, all of us do our best when we are motivated. If your child is struggling with motivation, try tailoring the activity to their interests. This can help them feel inspired! 
In real life: If your child loves music but argues with you about clearing the table after dinner every day, maybe suggest that they can pick the "table clearing music" so you can listen while you both work on clearing the table. If your child argues with you about reading before bed, look for books that relate to their interests. Even if it isn't the most "academic" book, that's ok! Finding a topic that is motivating will take them much further! 
4. Offer Empathy  
This may be one of the most important tools we have. Allow your child to feel whatever feelings they have. Overwhelm, frustration, and discouragement are all normal reactions to things that are hard! When you allow your child to feel their feelings, and lend a listening ear, you are teaching them that all feelings are allowed. 
In real life: If your child is frustrated by a task like cleaning their room, it may be tempting to say, "It's not that hard! I have to clean the whole rest of the house!" Instead, you can validate what your child is saying, and tell them, "I understand you are feeling overwhelmed. I sometimes feel overwhelmed by my chores, too. I like to break them up into smaller parts to make it easier. We could try that in your room?" If you are interested in learning more about teaching regulation and emotion coaching, check out our online course Creating Calm. We have an entire module dedicated to managing big feelings! 
We are SO HAPPY that you are here! Share your own tips and success with us on social media. Make sure to download our FREE ADHD Parenting Guide. In it, we share Six Keys to Raising a Happy and Independent Child with ADHD.
Have a beautiful week,
Katie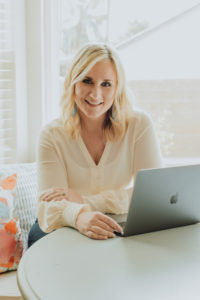 The contents of this site are opinions of The Childhood Collective PLLC partners unless otherwise noted. The information on this site is not intended to diagnose, treat, or prevent any type of medical condition and is not intended as personalized medical/psychological advice. Any decision you make regarding your child and your family's health and medical treatments should be made with a qualified healthcare provider.