Going through the process of getting an evaluation for ADHD is a rollercoaster ride of emotions. You probably waited awhile to decide to get an evaluation, only to realize that the evaluation process can take several months! And though you have longed for answers to your child's challenges, sometimes discovering the answers can bring with it more emotions and questions than you expected. Sometimes, you just need to hear encouraging words from friends and family.
We know this can be hard. Many of you didn't receive the encouraging words, support, or listening ear that you and your child deserved after getting their ADHD diagnosis.
A while ago, we polled our audience on Instagram, to ask you what encouraging words you wish someone had told you when you received your child's diagnosis. We received an overwhelming number of responses from you, more than we can share in this blog post.
So even if you didn't receive those encouraging words in the past, we are here to share with you some today.
9 Encouraging Words After Your Child is Diagnosed with ADHD
1) You're the right parent for your amazing child.
Though some days it may feel like you clash with your child or you are struggling to connect, remember that you ARE the right parent for them. You can do this!
2) Take the time to sit with your grief.
We all have expectations for our child. We dream about them and their future… even before we have children. So when we find out news of something that is going to bring them challenges in the future, we can be filled with grief. Our job as parents is to protect our children and sometimes it is too much to bear to see them struggle. Just know that all children have strengths and challenges. Your child can learn, grow, and succeed. And they are still the same special person they were before you received that diagnosis. At the same time, know that it is ok to take the time that you need to grieve and sit with those emotions.
3) There is nothing wrong with you.
We have seen so many families blame themselves for their child's challenges. You may begin to wonder if you did something "wrong" in your parenting. Please know that you did not cause your child's ADHD. It's true that if you have have ADHD, it is certainly possible that your child inherited this from you. But understand that all our children will have strengths and challenges in life. And know how wonderful it is that you so intimately understand your child's challenges and can advocate for their needs so early on in life. You have the opportunity to provide the support they need that maybe you didn't have as a child.
4) You are a great advocate for your child.
You have already proven this by seeking out an evaluation for your child. You knew your child needed support, and you are already on the path to receiving it. You will continue to be an advocate to help your child succeed.
5) Believe in yourself and in your child.
You can do this!
6) This is hard and I know you can do this.
Parenting a child with ADHD is hard work. Most people do not understand the challenges that you face every day. As hard as it is though, you have the strength to do this!
7) I know you are doing everything you can.
So many families are on a hamster wheel and never feel like they are doing enough. And most of these families are the ones that are doing so much to support their child. Remember, you and your child cannot do everything all at once. Take it one small step at a time.
8) Nobody's journey is the same, just focus on your own.
It can be so easy to compare our children to other peoples' kids. You might see your child's best friend reading books while your child is still trying to learn letters. Just remember, your child's development and progress might be different and that is ok. Try to focus on your child's wins and successes, and build up the things they are good at.
9) You don't have to figure it all out right now.
You may find yourself at the end of an evaluation with pages and pages of recommendations. It can be so overwhelming. Just remember that you don't have to do it all right now. Take your time. Start with just taking time to sit with this new diagnosis, and all the emotions that come with it.
If you are going through the evaluation process right now and need some encouraging words, save this blog for later. Trust us, you will want it. We hope someday, when that process is over, you will stumble upon this again and receive a little dose of encouragement.
Sending you the biggest virtual hugs. This isn't easy…and you ARE the best parent for your child.
And once you have taken the time to process your child's ADHD diagnosis, check out our FREE ADHD Parenting Guide. We also have an online ADHD Parenting course, Creating Calm. We help you gain an understanding of ADHD and provide you with practical strategies to raise an independent and happy child with ADHD.
Have a beautiful week!
Lori, Katie, and Mallory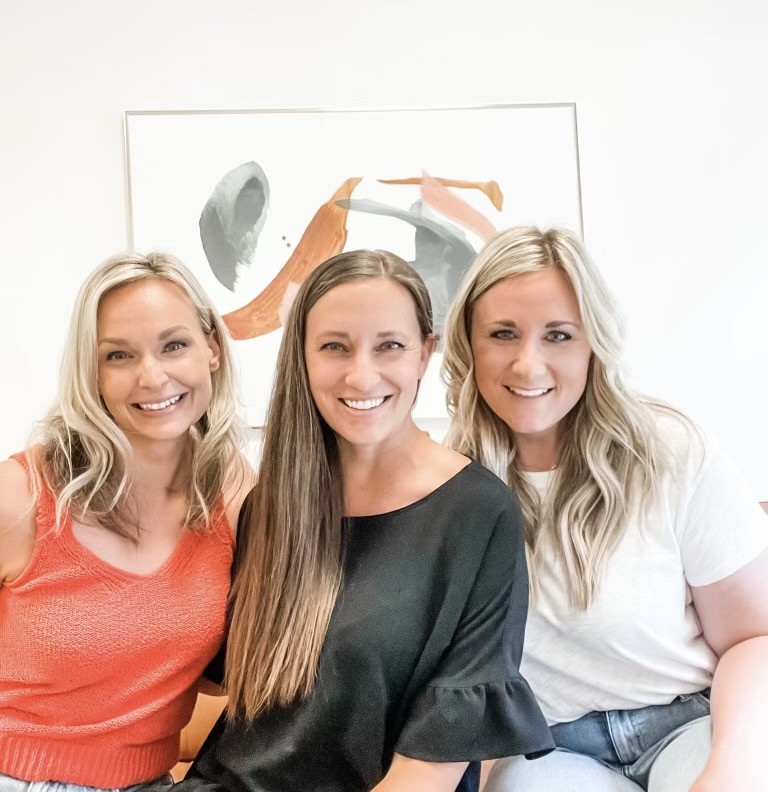 Disclaimer: The contents of this site are opinions of The Childhood Collective PLLC partners unless otherwise noted. The information on this site is not intended to diagnose, treat, or prevent any type of medical condition and is not intended as personalized medical/psychological advice. Any decision you make regarding you and your family's health and medical treatments should be made with a qualified healthcare provider.