(Note: This blog about back-to-school strategies was originally posted in August 2021; it has been migrated to our new blog as of October 2021). The information is helpful for any transition (after school breaks, vacation, or illness, so we included it here.)
Hard to believe that in some places (like Arizona), summer vacation is coming to an end! Whether that brings up excitement, relief, and/or a little sadness, we always say that all feelings are allowed 🙂 If your family is anything like ours, the summer has much less structure than the school year. That is totally ok! But it means that the first few weeks of school can be a tough transition. Waking up earlier, packing lunches, getting everyone dressed and out the door… it's a lot to keep track of! Today, we are sharing three back-to-school strategies to help you with this transition. 
1) Start working toward a functional sleep schedule.
Summers are all about late nights! Again, no judgement over here. If your child has been going to bed later than their "school bedtime," you will want to start slowly working their sleep time up. 
There are different ways to do this, depending on how much time you have. If you have a few weeks, you can slowly move their sleep time by small increments, like 10-15 minutes. 
If you have less time, you may need to move bedtime up faster. Here are our best sleep hygiene tips to help with bedtimes: 
2) Strategize about which routines need practice.
Identify 1-2 routines that will likely need some help (e.g., morning, bedtime, and homework are three that often come up). 
Sit down with your partner and children to talk about what a particular routine will look like, and brainstorm ways to make it easier. For example, break down the parts of the morning routine and set a timer for how long it should take. 
Pro-tip: If possible, don't wait until the first day of school to start practicing routines. Start practicing your back-to-school strategies a few days before! 
3) Communicate with the school.
On our social media, we get TONS of questions around this topic. Great questions, like: 
Should I tell my child's teacher about their ADHD? 
Is it better to explain about my child's needs before there is an issue, or should I wait for the teacher to contact me? 
If my child needs extra support, how do I request testing (which is the first step to possibly getting a 504 plan or IEP)? 
While each situation is unique, our general recommendation is that parents should talk with their child's teacher as soon as possible. You can keep it positive and talk about your child's strengths. Provide your tips that you know will help your child to be successful at school and how you would like the teacher to communicate progress with you throughout the year.
Side note: Children with ADHD can (and should) get support at school – even if their grades are not suffering. In 2016, the U.S. Department of Education Office for Civil Rights (OCR) wrote a letter known as the "Dear Colleague" letter. The purpose of the letter was to let schools (public and charter) know what they were legally obligated to do when supporting children with ADHD at school. Check out this blog post for more information about the letter and what it means for your child. 
What are some of your back-to-school strategies for managing back to school? Let us know what is (or isn't!) working for you!
If you are looking for ready-made routines to make mornings and bedtimes smoother and more calm, check out our online course Creating Calm. We give you simple, easy-to-use tools to help you raise a happy and independent child with ADHD!

Have a beautiful week!
Lori, Katie, and Mallory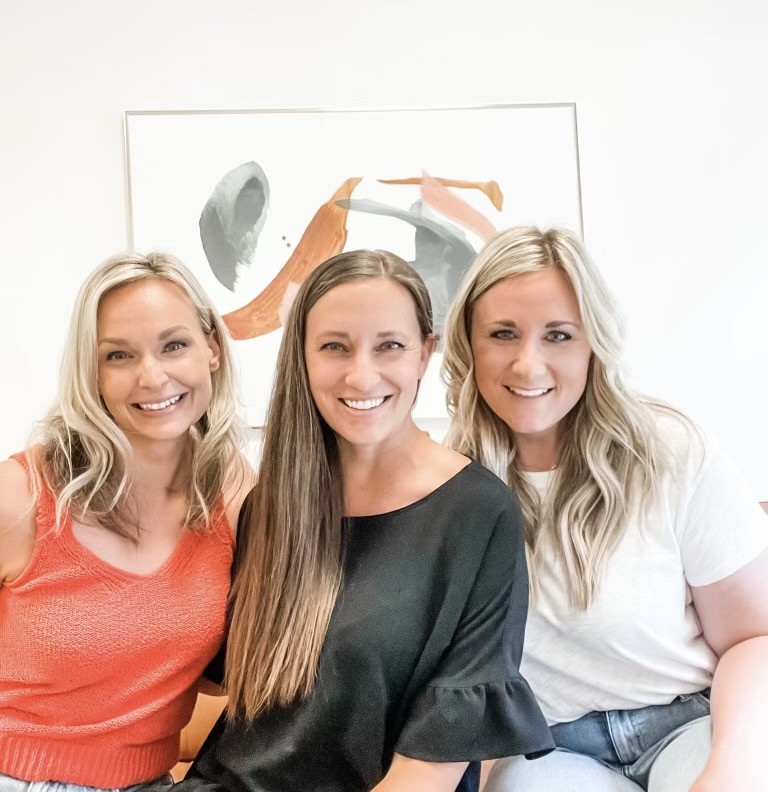 Disclaimer: The contents of this site are opinions of The Childhood Collective PLLC partners unless otherwise noted. The information on this site is not intended to diagnose, treat, or prevent any type of medical condition and is not intended as personalized medical/psychological advice. Any decision you make regarding you and your family's health and medical treatments should be made with a qualified healthcare provider.