Home Organization to Help ADHD
"Mom! I can't find my shoes!"
"Did you leave your lunchbox in the car last night?"
"Who took ALL the water bottles??"
How are mornings going at your house? At my house, we used to have a LOT of hectic, panicked mornings. I would go to pack lunches and realize that the lunch boxes were left in the car overnight (gross). Or I would go to fill water bottles, only to open an empty drawer because the water bottles were left all over the house (and backyard!)
After much trial and error (frustration and yelling), my husband and I needed a significant organizational overhaul. Here's why: If it doesn't have a HOME, it will be anywhere but where it's supposed to be.
We get it!
It's stressful to be constantly losing and searching for things. Plus, there is a financial toll to constantly re-buying things like water bottles or basketball shorts. Try these tips to help build a home organization to help ADHD:
1. Take a moment to consider your specific situation.
While it can be super tempting to open Pinterest and check out their perfect linen closets with matching baskets, wait! (note: There is nothing wrong with matching baskets! But the system NEEDS to be personalized to you). Start by thinking through your day. Write down a quick list of items constantly getting lost/misplaced. For each item, think about where and when you use them most.
Sarah Ward uses the "STOP" acronym to help support executive function. Because it's summer in Arizona and we use a LOT of sunscreen, let's use that as an example.
Space: Where do you use the objects? What room should they be in? (We put sunscreen in the kitchen because it's close to the back and garage doors.)
Time: When do you use the objects? Not necessarily the time of day, but during what activities? (We put on sunscreen before we leave the house or go in the backyard, so it makes sense to put it near the garage door and backdoor) 
Objects: What do you need to complete the task? (Just the sunscreen!) 
People: Who needs to be able to access those items? (Everyone in the family, so we keep it in a drawer that even the 5-year-old can reach)
2. Put practicality and convenience first.
Shoes, backpacks, gloves, chargers, keys, wallets… they all need a home! Make sure you put things at the right height for all your family members and that they can be opened/accessed as needed. You want your kids to know where to find their items AND where to put them back. While 12 matching baskets without labels may look cute, it will get confusing! Can your kids read? If not, you can add pictures to the outside of the basket. We also love clear containers so everyone can see what's inside the box.
When we are organizing, we have a few favorite tools we use, and we have found the perfect place to put them. We use our Time Timer (affiliate link; use code: TCC for a discount!) with homework, so it's on the desk next to the pencils. Our favorite tool for helping with sleep is the Zenimal (affiliate link; use code: TCC for a discount!) in the bedroom beside the bed.
Once you have found the right place, communicate it to the entire family. And on that note…
3. Include your family whenever possible.
Your family is the best resource to help you problem solve. My 5-year-old used to struggle to get his socks and shoes on before we left the house. So, we talked about it, and I asked him how to make it easier. He said it's hard because his socks are in his bedroom, and his shoes are near the garage/mud room. His insight blew me away! So, we got a little sock basket that sits near the shoes, and now he has his socks and shoes right next to each other. I could help him solve the problem by giving him a voice, and he felt ownership of the solution.
On that same note, it's really important to explain to kids WHY we are doing this! It's not just a chore to fill the time! When things are in the same spot every time, it saves time and stress. But your kids won't necessarily know this unless you point it out. So, try observing like, "Wow, it's so nice when all the swim towels are in this bin because we don't have to stand out here freezing!" or "I love that your toothbrush was in the drawer because now we have time to wrestle before bed!" You can help them connect the organization to the benefit they are getting.
We discuss how to include your kids in our online course, Creating Calm.
4. Home organization to help ADHD: practice makes perfect!
Once you have talked with your family about where each item goes, know that it will take them some time and practice to be successful. They may need reminders. One of my favorite games to play with my kids is, "What's in the wrong place?" we look around the room and figure out what needs to be put away. That way, it's a playful game rather than a lecture. They like the challenges of finding something out of place and putting it in the correct spot. This is also a great way to build executive function.
5. Celebrate those successes
Strategically using rewards can be an excellent tool for helping kids with ADHD learn a new skill. So, make sure you notice when they put things in the right spot. You've got this!
Find more practical tools and tips like this in our digital course for parents raising kids with ADHD, Creating Calm. 
Have a beautiful week!
Katie, Lori, and Mallory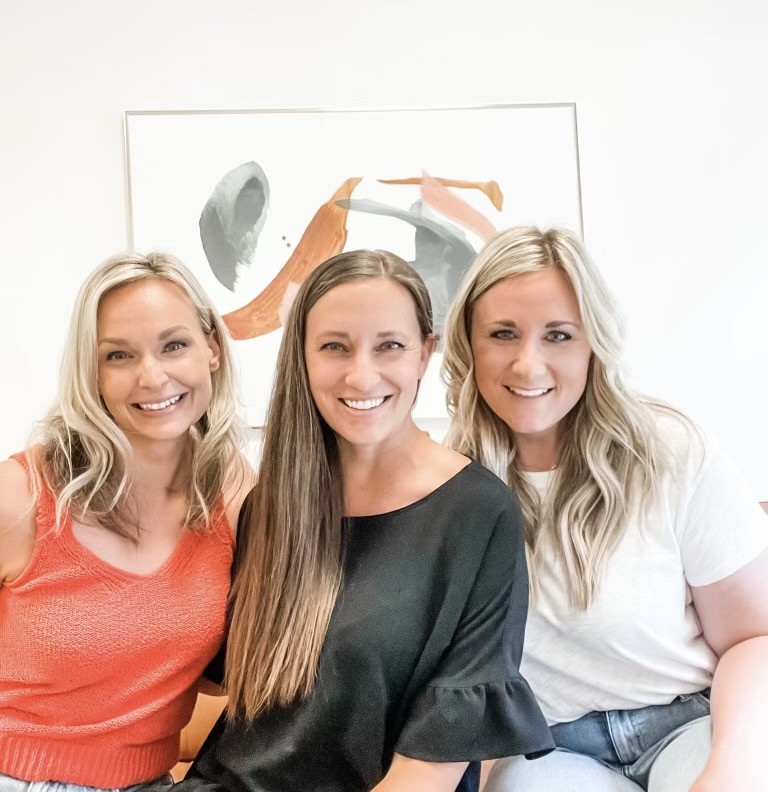 Disclaimer: The contents of this site are opinions of The Childhood Collective PLLC partners unless otherwise noted. The information on this site is not intended to diagnose, treat, or prevent any type of medical condition and is not intended as personalized medical/psychological advice. Any decision you make regarding you and your family's health and medical treatments should be made with a qualified healthcare provider.